Chorus WTC 2 – Elevated Work Platform
To meet Chorus' minimum standards for Health and Safety related competency for workers. This course covers the safe operation of any vehicle or machinery associated with Elevated Work Platforms (EWP).
Trainees will be taught EWP plant operation skills in accordance with Worksafe requirements, current codes of practice and best practice guidelines.
Recommended for
Any person required to hold Chorus WTC 2
Course Objectives
Know the types of EWPs and their suitability for purpose and their safety features
Understand the legislative requirements, codes of practice and guidance for using an EWP
Using a personal fall protection system
Assessing the worksite, safe setup, operation and shut down of an EWP
Safety planning, hazard ID, safety observers, rescue planning, safe working zones, approach distances to power lines
NZQA Unit Standards
23966

Describe types of elevating work platforms (EWPs) and legislative requirements for their use
Operating Equipment Unit Standards
23960

Assess the worksite, prepare and operate a scissor lift elevating work platform (EWP)

23961

Assess the worksite, prepare and operate a truck mounted elevating work platform (EWP)

23962

Assess the worksite, prepare and operate a self-propelled boom lift elevating work platform (EWP)

23963

Assess the worksite, prepare and operate a trailer mounted elevating work platform (EWP)

23964

Assess the worksite, prepare and operate a vertical lift elevating work platform (EWP)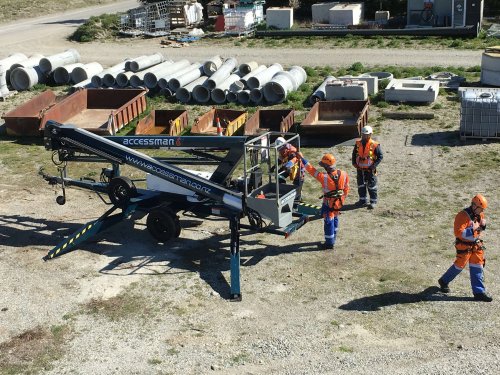 Course info
Delivery
Available nationwide upon request
6 attendees
Duration and cost
1-day course (covers 23966 plus any two of the OEUS listed below) – $4,000 + GST
Half day refresher – $2,750 + GST
*Pricing does not include plant hire