Elevated Work Platforms in an ESI Environment
This course covers the safe operation of any vehicle or machinery associated with Elevated Work Platforms (EWP) specifically in the power industry.
This course covers requirements of Occupational Health and Safety, current codes of practice, best practice guidelines and
teaches the skills required to become a competent EWP plant operator.
Recommended for
Anyone that needs to operate an EWP, have the role of EWP safety observer, or initiate an EWP rescue.
(Note – participants must hold unit standard 23229 – Use safety harness system when working at height)
Course Objectives
Types of EWPs and their suitability for purpose and their safety features
legislative requirements, codes of practice and guidance for using an EWP
Using a personal fall protection system
Assessing the worksite, safe setup, operation and shut down of an EWP
Safety planning, hazard ID, safety observers, rescue planning, safe working zones, approach distances to power lines
NZQA Unit Standards
23966

Describe types of elevating work platforms (EWPs) and legislative requirements for their use
Operating Equipment Unit Standards
23961

Assess the worksite, prepare and operate a truck mounted elevating work platform (EWP)

18272

Operate power-operated elevating work platforms (EWP) in an electricity supply environment – this unit standard is intended for Distribution and Transmission Line Mechanics
(Note – 18272 has unit standard 10507 as a pre-requisite and will also require two post-course observations)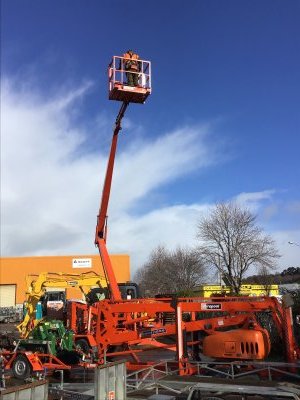 Course info
Delivery
Available nationwide upon request
Duration and cost
1 day course (up to 8 people and 1 EWP) – $2,450 (price for additional people upon request)
Half day refresher (up to 8 people with 1 EWP) – $2,150
*All costs excluding GST.
*Pricing does not include plant hire