Working At Heights – Safety Harness & Fall Arrest
This course combines two different NZQA Unit Standards into one course. It is a nationally accredited course that covers theoretical and practical aspects of using a harness. Providing you with the skills to correctly identify equipment, carry out pre-use checks, identify and control hazards when using a full body harness and requirements of a rescue plan. With the Horizontal and Vertical Fall Arrest Systems course you will learn to control height hazards by using working at heights harness systems. You will achieve the skills needed to install a temporary height safety system and understand the associated legislative requirements.
Recommended for
Anyone that needs to use a harness for climbing or lowering into spaces. Including for the use with an elevated work platform. Those who are planning, installing and operating fall arrest systems and supervising staff working at height.
Course Objectives
Preparation for working at heights and control of hazards
Inspection and fitment of a fully body harness
Using a safety harness for personal fall protection
Necessary requirements of SM-EI and NZECP34
Knowing the hazards associated with working at heights
Personal Protection Equipment
Identification of anchor points
Installation of temporary height safety systems
Vertical and Horizontal fall arrest systems
NZQA Unit Standards
23229

Use safety harness system when working at height

15757

Use, install and disestablish temporary proprietary height safety systems when working at height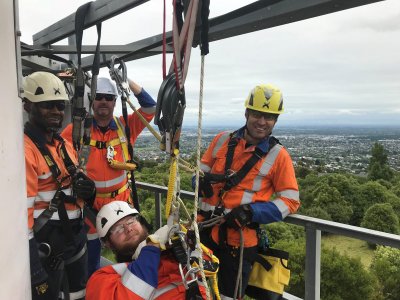 Course info
Delivery
Available nationwide upon request
Maximum 10 attendees
Duration and cost
2 days – $4,200
1 day refresher – $2,300
Webinar option 
1/2 day – $270 per person
*All costs excluding GST